Organisational Development & Change
Bushell & Cornish employs a team of multi-disciplined professionals who specialise in all areas of organisational development, business transformation and change.
Bushell & Cornish has distinguished itself in the Organisational Change and Development space, through many successful engagements with Federal and State Governments, Local Councils and large public companies, over many years.  We start any business change project by analysing what business process changes are required, and why.
We answer this enquiry through modelling Current State (As Is) business processes – assessing issues and problems – in order to define a Future State (To Be), and the business process improvements the organisation 'must', 'won't', 'should' and 'could' have (MoSCoW).  We look at the system changes that may also occur, to better realise the improvements identified.  We also look at whether the organisational structure needs to change as a result.  Finally, we assess to what degree the organisation's culture, individual roles, workplace practices and ways of working, may also need to change to achieve the Future State envisioned…
The transition strategy describes how we move from "As Is" to "To Be" and might entail a "stepped change" process, or a radical "one step change". The "C Diagram" below, succinctly communicates the scope of activities performed by Bushell & Cornish for business transformation and organisational change programmes.  The six dimensions include organisational change factors (Processes, Systems, Structures) and Organic Change Factors (Culture, People, Practices):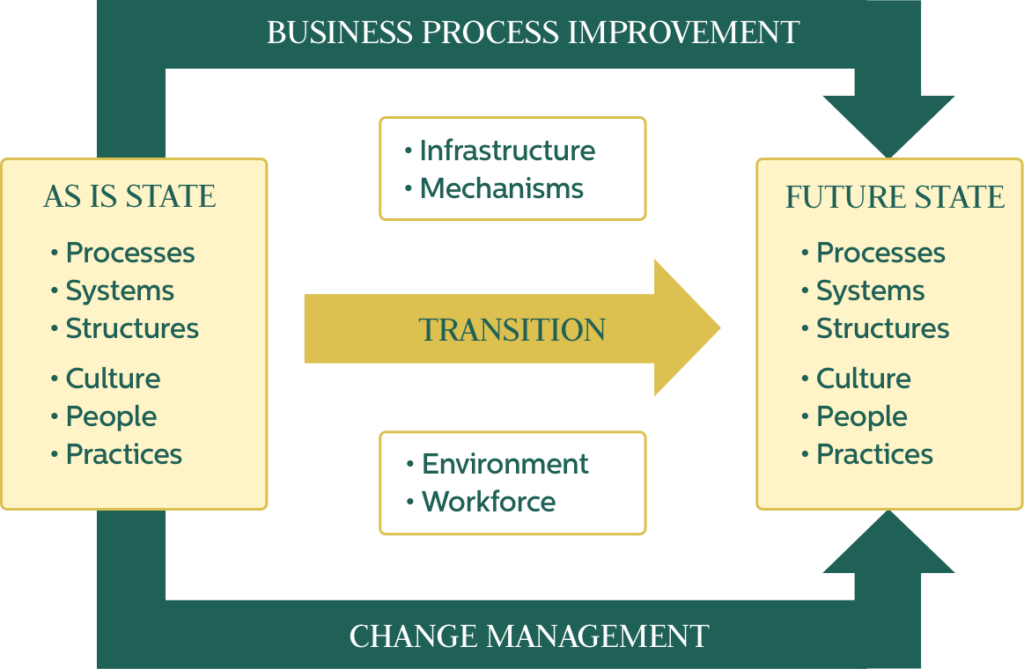 Our highly qualified consultants have demonstrable experience in a range of service industries in both the public and private sectors. We are consequently positioned to undertake a broad portfolio of assignments that range in size from one-off facilitation services, through to program management of very large scale, multimillion dollar technology enabled change initiatives.
Our methodology for Business Transformation and Change is proven, based on best practice international business methods and tools.  Our method continues to be enhanced as a result of our extensive and diverse client experiences. We endeavour at all times to partner effectively with our clients in delivering value for money services and business excellence.
Our range of Services include:
Envisioning Workshops and Concept Analysis
Stakeholder Analysis & Engagement
Strategic Planning
Business Modelling and Business Planning
Cost Benefit Analysis & Business Case Development
Project Evaluation
Transformation Program Planning
Transformation Program Management
Program Office Establishment and Management
Process Analysis and Redesign (Six Sigma)
Organisational Review and Redesign
Organisational Restructuring and Workforce Transition
Performance Analysis and Improvement
Workforce Assessment and Development
Succession Planning and Capability Transfer